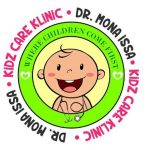 Dr. Mona Issa (Pediatric Consultant and Professor of Pediatrics) practicing since 20 years.
First specialty pediatric clinic in the area. It has been established for over a year now and provides comprehensive pediatric outpatient services to the community for children ages 0-18 years old.
Kidz Care Klinic provides a variety of health services, including:
Medical consultation (evaluation of illness, health and school check-ups).
Immunization (vaccinations).
Laboratory and allergy testing with blood sampling in the clinic (Blood and Urine).
Child nutrition, health, toxicity profile available.
Injection medications.
We are health care provider for many insurance companies including "Globmed, Tazur, Gulf Unison, MedNet, Health 360, Medivisa"